Court Bonds: Your Complete Overview of the Top Probate/Judicial Bonds
This book deserves a spot on your shelf.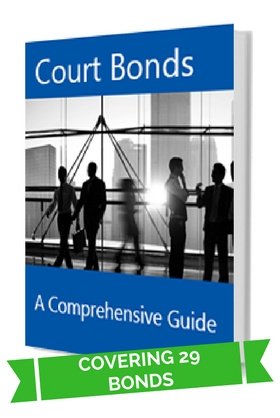 Court Bonds is a beautiful e-book crafted by the top surety professionals. This book provides a brief overview of 29 of the most popular probate and judicial surety bonds, highlights the obligations under each bond, and explains the bonding requirements necessary for issuance. 
Use this book:
As your court bond encyclopedia

To understand the nuances between Guardian and Conservator

To learn when an Administrator Bond is used over an Executor Bond

Discern when Joint Control is necessary

Recognize when collateral is required by your client

And more
If you love the book, we'll even mail you a beautifully bound hard-copy for your office.
Questions? Give our Court Bond Executive a call at 866.722.9239.